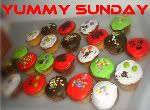 Banana Turon are my entry for Yummy Sunday and Mellow Yellow Monday!
Banana Turon is very famous mirienda or snacks for Filipinos. When I crave for these turon's I just buy banana plantain at the grocery store and get the spring rolls wrap at Asian store. It's pretty easy to make. You wrap it just like when you wrap spring rolls/egg rolls. By looking at the photos you will learn how to do it. Trust me! I usually eat them right away because it's so yummy and crunchy while still hot. You want to give it a try? Go ahead
Ingredients: Banana plantain, spring rolls wrap, brown sugar, oil, and jackfruit-optional.