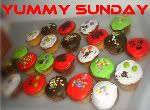 Weekend of August 29 was the Guelph Ribfest. The whole family went there except hubby. He was away for a business trip. Anyway we enjoyed the food there you know especially the ribs. The sauce was really yummy but everything was very expensive. There were lots of people and kids were enjoying the amusement park. My daughter had a great time.
Anyway on the other light I had a baby the other day September the 2nd at 3:54 AM. Light pain started around 1am in the morning followed by intense pain around 2am and we arrived at the hospital almost 3am. On the way to the hospital unbearable pain continues every 3 minutes. When I got upstairs I was already 5 cm when the nurse checked me. My water broke and the pain continues every 2 minutes. It didn't take that long Noah was born at 3: 54. He weighs 7.4 lbs. The on call Doctor didn't make it so the 2 nurses delivered my baby. He showed up later to take care of the placenta and the tear. Anyway that's all I can share for now.


This is the 2nd day when Noah was getting ready in his car seat to go home. He was sleeping!

FIRST COMMENTER: Food Trip Friday