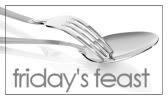 Appetizer
What is the nearest big city to your home?
Kitchener – Waterloo
Soup
On a scale of 1-10 with 10 being highest, how well do you keep secrets?
10
Salad
Describe your hair (color, texture, length).
I have dark brown hair, shiny and shoulder length.
Main Course
What kind of driver are you? Courteous? Aggressive? Slow?
Well mostly courteous but I drive fast sometimes when I'm in a hurry!
Dessert
When was the last time you had a really bad week?
Sorry I don't remember. Maybe I don't have one…lol