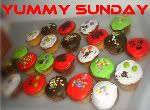 This was our dinner that I prepared last night. I made some potato dish, fish, garlic cheese bread and salad.

5 large potatoes, sliced
1 can mushroom soup
1 large onion
1 cup grated marble cheese
Slice potatoes and boil and then transfer it to baking dish. Mix onion, ½ cup grated cheese and 1 can of mushroom. Add the rest of the cheese on top. Bake it for ½ an hour or until cheese is melted.


8 pieces of tilapia fillet
2 eggs, beaten
Bread crumbs
Salt and pepper
You have to wash and dry fish fillet first then add salt and pepper. Coat it with eggs and bread crumbs individually then arrange them on a baking dish. Bake them for ½ an hour or until fish are flaky. Serve with fresh lemon!


5 slices of loaf bread
Butter, melted
Garlic, minced
Marble cheese, grated
Mix garlic and butter together then spread onto bread piece. Top with cheese! Bake it for 10-12 minutes.


Cut romaine lettuce, cucumber, tomatoes, cheese cubes. Mix all together and add mandarin orange dressing.