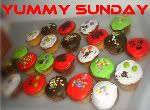 This is called bitso-bitso or a Filipino donut I guess. You can also call it glutinous rice balls or whatever you call it. I made this dessert last Friday when we went to my best friend's dinner. We always finish the dinner with sweet dessert you know so without sweets meal is not complete.


Ingredients:
1 package glutinous rice flour
1 can coconut milk
1/3 box dark brown sugar
1/4 cup cold water
Cooking oil
Procedure:
Place canned coconut milk in flour until dough is soft but not too sticky.
Shape dough in balls of 1 inch diameter and fry them until golden brown.
Drain dough balls on paper towel.
Then put them in a large mixing bowl
Boil water and brown sugar in a small sauce pan until it looks like a syrup.
Drop all the balls into the the syriup and mix well so that all are coated with syrup.
Remove from bowl and place them in a platter to cool.
FIRST COMMENTER: